Nonthaporn K. Saunders is known and called as "Pum". She landed her first freelance in 1997 while she was still in college at Rangsit University, Thailand. Through the years, she has learned to express and tell her stories through her arts in different styles and medias. However, she has never forgotten her own Thai cultures that has been influencing her to create traditional contemporary Thai arts through illustrations, mixed media, photography, and handmade arts.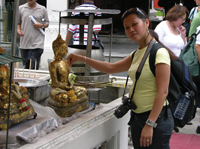 Those words have fueled every graphic design endeavor by Nonthaporn K. Saunders, the creative force behind PassivePunk Designs. "Pum" honed her creative energies at Rangsit University (Platumthani, Thailand), culminating in a BFA in Graphic and Visual Communication Design in 1998. She did her internship as a photographer assistant at Step 4, INC. Bangkok, Thailand in 1997. When she wasn't behind a camera, Pum was getting her hands dirty with print production, painting, and making handcrafts. As the world evolved from print to web, Pum hopped an ocean, and soon found herself in Philadelphia, acquiring even more skills at both the Art and Anthem (Chubb) Institutes.

Pum still calls Philly home, making it the primary locale for her creative services. Why use PassivePunk? Yeah, she's creative, versatile, and reliable. But, really, who better to visually capture your energy, your essence, your message than someone who loves and lives the art of being you ?????